Posted by:
meikah
| 21 December 2008 | 11:45 pm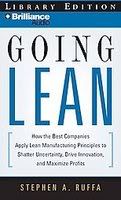 Stephen Ruffa's new book titled, Going Lean, is very timely. In this time of the economic crisis when recession has plagued the world's economic arena, Going Lean teaches us how to live and adapt with change.
How?
By first giving a good background on how companies make their processes work in certain environments, spanning from Ford's Model T to recent superstars, Toyota, Walmart, and Southwest Airlines—companies that have stood and ridden the waves of change.
These companies show and prove that excellence is best seen in a crisis. Thus, Going Lean challenges every company to think about successfully doing their business as the business arena changes. Its underlying principle is termed lean dynamics, which teaches companies that uncertainty and crisis are not temporary disruptions in business. Rather they are now the driving force of every business.
The lessons:

Chapter 1 – Think of solutions that encompasses the most number of business environments. Go beyond the obvious, and don't think of the "now" only.

Chapter 2 – Accept that business conditions are ever changing, and that in order to survive, you need to adapt.

Chapter 3 – You may not see the future, but you can definitely prepare for it.

Chapter 4 -Â  Establish a new management system that addresses a fast-paced technology, ever-changing demands of customers, suppliers, and even competitors all playing in the same global market.

Chapter 5 -Â  Measure your success in terms of the value every process has and every worker puts in to make the whole organization work.

Chapter 6 – Do away with individualistic approach, rather work on a smooth flow of processes where each contributes to the smooth operation of the stream map.

Chapter 7 – Although you need to address fast-changing customer demands, you need to consider the implication of each demand on the whole process of the organization.

Chapter 8 – A flexible solution could more precisely accommodate varying demands. By letting actual demands pull operations rather than have average forecasts push them forward, overall flow could be streamlined, minimizing lag and waste within the dynamic environment.

Chapter 9 – Study clearly your organization so that you'll know which needs to be changed, which do not, and have the courage to roll out the changes. Before rolling out changes, though, it is important that you have everything planned out. Otherwise it may lead to false starts, thus to waste.

Chapter 10 -A natural progression from Chapter 9 is to structure your transformation with deep knowledge of your problem, the factors/roots of the problem, the vulnerabilities, and the thought-out solutions. "Six Sigma skills can be useful here in identifying and driving down variation at these hot spots, improving a wide range of outcomes on everything from improved product quality to faster delivery times."

Chapter 11 -Â  To succeed at your lean efforts, look at the whole process, not on single discrete steps; avoid the problem; pursue sustainable value, focus on the dynamic flow, get everyone involved.

Chapter 12 -  This phrase no longer works: If it ain't broken, don't fix it. Rather,  it should be If it ain't broken, improve it! Innovation and execution can work hand in hand, creating tremendous, sustainable value.
These lessons are gathered from the ample examples of how companies, especially Toyota, Walmart, and Southwest Airlines have been weathering their storms successfully.
This book is a must read! If you've read it, you may want to join the conversation over at LinkedIn (Sign up for the Lean Six Sigma group first).