Posted by:
meikah
| 3 March 2012 | 1:19 am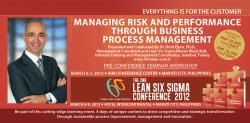 Ever wondered how to make your business healthy in the midst of economic crisis?
Many say, all you need to do is to remain customer-centric and sustain business processes that create valuable customer touch points. However, to achieve these, you need a strategy that ables you to manage risks, some kind of a risk management framework and model corporate risks using 'Heat Map' technique.
Fiera De Manila Philippines is bringing to you this important event, Managing Risk and Performance Through Business Process Management.
Happening on March 6-7, 2012 at the AIM Conference Center, Makati City, Philippines, this pre-conference and seminar workshop will expose you to the understanding and carrying out of  designing business processes, or re-designing and improving existing ones.
It focuses on identifying opportunities for process improvement and presents the process analysis, modeling and design techniques and tools required to improve performance. Participants will learn to scope processes and to model organizations, value chains and specific processes using graphical models. Participants will learn how to define measurement techniques for evaluating outcomes. Balanced Scorecard Model is the highest level to assess organizational performance and success, being mainly focused on strategy and business outcomes.