Posted by:
meikah
| 13 December 2007 | 8:48 pm
It's that time of year again when Santa Claus, the famous CEO of Polar Enterprises, Inc., is on top of what he likes doing best: producing toys and giving them to every child in the world.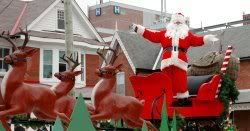 With a worldwide customer base, which is increasing by the second, you would wonder how Santa does it without a snag.
I stumbled upon an interesting interview with Santa Claus by e-Zsigma newsletter's Six Sigma Spotlight. Below are the highlights of the interview:
Incorporating Six Sigma with Lean Manufacturing, and leveraging Senior Santa's Helpers (aka Black Belts), toy production efficiencies at Santa's company were up by 5%.
Deployment and practice of Six Sigma – the entire system of toy production is dynamic and so they used modeling and experimental design and ended up with an optimized routing and delivery process. This has saved us a considerable amount of time… "I am home quicker for Mrs. Claus, and I even get to stop for my favorite post-delivery beverage… A Grandé Hot Chocolate at Starbucks… with lots of whipped cream!"
Despite the magnitude of toy deliveries that needed to be done, at Santa's Workshop, the so-called "last minute" rush is nonexistent. "Our deployment strategy for Six Sigma included a comprehensive assessment of our core business processes, using such tools as SIPOC, Process and Value Stream Mapping, Root Cause Analysis, and much more to identify the key processes and more importantly, the key variables affecting the capabilities and outcomes of each of these processes. Statistical analysis played an important role at the task level of the processes, so we could really analyze variation and capability. We then tied the outputs of these processes directly to our 6 billion plus customers, and using something I think they called Quality Function Deployment and House of Quality, we were able to align and quantify all of what we were doing with those outputs or deliverables. Our Senior Santa's Helpers were trained in basic as well as advanced tools, including statistics, and were assigned specific projects aligned with our deployment and business strategy that would maximize the benefits to operations and solve many of the recurring problems we had been struggling with."
Click here to read the interview.
*Photo from MorgueFile