Posted by:
meikah
| 22 June 2009 | 7:11 pm
Although they both share a focus on quality and customer satisfaction and are designed to accomplish different things, CMMI and Six Sigma can actually work together.
"The two technologies work really well together. Six Sigma wants you to map out your processes (Process Mapping), but it doesn't actually tell you what the processes should be. CMMI determines the right processes for an organization to start. However, an organization may have to tailor it or add to it to make it work for them. CMMI provides the process backbone that Six Sigma needs," says Jeannine Siviy, senior member of the technical staff at the Carnegie Mellon Software Engineering Institute.
Related post:
Six Sigma Improving CMMI Framework
Posted by:
meikah
| 11 December 2008 | 10:47 pm
The Capability Maturity Model Integration (CMMI) model describes a series of maturity levels (initial, managed, defined, quantitatively managed, optimizing) that demonstrates increasing levels of process maturity for a software development organization.
Organizations use CMMI as a framework for process improvement in areas such as causal analysis and resolution and quantitative process management. These areas have significant similarities to Six Sigma tools and approaches and are used for improving key performance metrics by the software project teams.
In this manner, Six Sigma can be used as an effective tool to make improvements within the CMMI framework and make it more robust. How?
use Sigma as a level metric
use Six Sigma as a methodology
use Six Sigma in the metrics program
Related posts:
CMMI and Six Sigma
Integrating ITIL, CMMI, and Lean Six Sigma
Posted by:
meikah
| 24 February 2008 | 8:26 pm
I had written about how Six Sigma can be integrated with other methodologies and technologies. But there were not very detailed discussions as to how Six Sigma can be incorporated with each.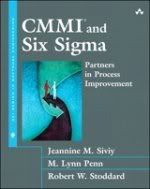 InformIT shares a good discussion, taken from CMMI and Six Sigma: Partners in Process Improvement, on how Capability Maturity Model Integration (CMMI) in particular can be integrated with Six Sigma:
Strategy 1: Implement CMMI-based processes (or, more simply put, CMMI process areas) as Six Sigma projects.

Strategy 2: Apply Six Sigma to improve process performance and serve as the tactical engine to achieve high capability and/or high maturity.

Strategy 3: Apply Six Sigma, specifically DFSS, as a tactical contributor to achieve highly capable engineering processes.

Strategy 4: Apply Six Sigma to improve or optimize an organization's improvement strategy and processes.

Strategy 5: Institutionalize Six Sigma project results, and culture, via the CMMI's institutionalization practices.
Source:
Six Sigma Zone featured link