Posted by:
meikah
| 18 February 2014 | 10:12 pm
I've written about process improvement and business process management, and clearly, we can't get enough of this topic.
One of my favorite quotes on processes is this, "Problem is caused by 95% system and 5% human." Got this from Lean6Sigma. Another one is by Peter Drucker which goes, "There is nothing so useless, as doing with great efficiency, something that should not be done at all."
These have been my guiding principles ever since I took on the operations in my organization. At the onset, we reviewed the system, put in place processes that were not there before, but which were needed. We streamlined processes that took a lot of time, yet didn't produce extraordinary results. Processes that were improved during that time were our recruitment and pre-recruitment skills training.
Around that time, too, we were able to maximize a software that we developed that keeps everyone in the loop. That ran for about a couple of years without much hitches, up until mid of last year when we saw the need to review the processes again.
So, in our strategic planning early this year, we reviewed the processes and found out loopholes because some steps are either missing or deemed to be done by some persons, or it is no longer applicable, or it was a closed process failing to inter-loop with other processes. We were creating silos. No wonder, some get lost in the scheme of things.
It's really good to regularly review processes for them to be part of your system, and eventually when it is practiced efficiently, it becomes part of the culture.
I'm glad I attended workshops and conferences that helped me come up with a guide to review processes. Now, I have good news for you.
On March 11 and 12, 2014, Fiera de Manila, Inc. once again brings you The 4th Lean Six Sigma Conference. It is happening at the Hotel Intercontinental, Makati City, Philippines. The conference presents an opportunity to revolutionize your business processes. Find out and discover how you can drive your process management strategies and innovation program closer to your customers. Thought leadership and shared learnings through case studies will inspire you to drive high performance-level after attending this conference.
Visit their Facebook Page for more information and updates. Sign up now!
Posted by:
meikah
| 21 July 2010 | 12:34 am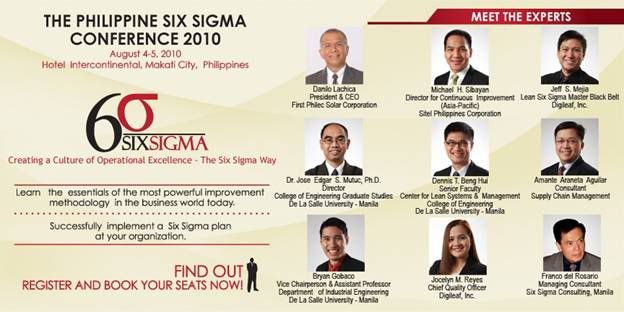 Mark your calendars for The Philippine Six Sigma Conference 2010 on August 4-5, 2010 at the Hotel Intercontinental, Makati City, Philippines.
If you and your company is pushing for continuous improvement to address efficiency and enjoy great savings, then you must attend this conference.
I've attended several Six Sigma conferences before and every time I do, I learn something new. I guess we are really supposed to learn every day about making our processes work and remove bottlenecks along the way. With a floundering economy and a highly competitive business arena, companies really need to step up and make a difference.
Six Sigma in the Philippines is slowly getting on solid ground. More and more Philippine-based companies are going into Six Sigma. These companies are seeing that reducing wastes and improving processes are the way to go to achieve success
Thanks to Fiera de Manila and DigitalFilipino System and Software Process Improvement Network for sponsoring the conference.
It's time to find out more about Six Sigma and how you can apply it to your organization. Register now!