Posted by:
meikah
| 21 July 2010 | 12:34 am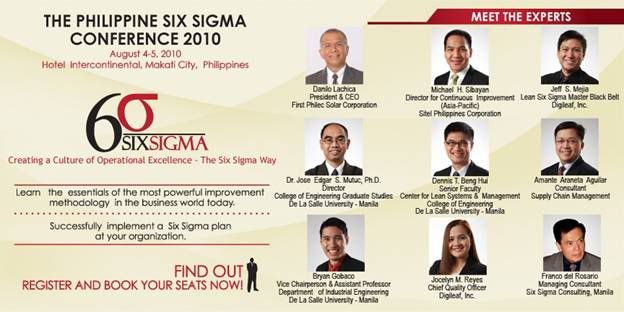 Mark your calendars for The Philippine Six Sigma Conference 2010 on August 4-5, 2010 at the Hotel Intercontinental, Makati City, Philippines.
If you and your company is pushing for continuous improvement to address efficiency and enjoy great savings, then you must attend this conference.
I've attended several Six Sigma conferences before and every time I do, I learn something new. I guess we are really supposed to learn every day about making our processes work and remove bottlenecks along the way. With a floundering economy and a highly competitive business arena, companies really need to step up and make a difference.
Six Sigma in the Philippines is slowly getting on solid ground. More and more Philippine-based companies are going into Six Sigma. These companies are seeing that reducing wastes and improving processes are the way to go to achieve success
Thanks to Fiera de Manila and DigitalFilipino System and Software Process Improvement Network for sponsoring the conference.
It's time to find out more about Six Sigma and how you can apply it to your organization. Register now!