Posted by:
meikah
| 27 July 2010 | 12:43 am
It's time again for some link-loving and see what other blogs are saying about Six Sigma, Lean, Lean Six Sigma and other quality improvement processes.
Forrest Breyfogle  of Going Beyond Lean Six Sigma and the Balanced Scorecard says that for lessons on recovery, U.S. can look to the north on their healthy policies and performance measurements. The post is particularly referring to Canada and how the country is doing amidst the crisis.
Over at Call IT Anything, Dale Sanders advises to don't be strangled by process-improvement Black Belts. "Try though we may fix the problems of healthcare IT with rigorous process– most recently ITIL– we're only putting lipstick on a pig…"
The Best Mobile Phone blog shares some tips and technology for Six Sigma mobile workforces. "Some organizations that have tried to use Six Sigma in field sales have used information technology solutions too soon. There is a wrong perception that Six Sigma will interfere with the productivity of the sales staff or take up time that they would rather spend with customers."
Food Standard blog asks, can a fast food chain benefit from Lean Six Sigma? The post has good points about food, waste and Lean Six Sigma.
Lean Six Sigma for Law Enforcement blog talks about MBWA, or Management by Walking Around. It's an interesting management style and the blog itself is a revelation. Check it out!
Posted by:
meikah
| 31 March 2008 | 9:19 pm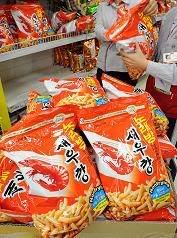 Saeukkang, in Korean means fish crackers, has been loved by the Korean public for 40 years. Recently, however, a customer found a rat's head inside a noraebang saeukkang, the jumbo-sized version of saeukkang.
The incident occurred just two months after Sun Wook, chairman of Nongshim, took his post. But instead of taking the incident as an assault to the company, Sun Wook took it as an opportunity to make the food company even better.
In an interview with Moon Byung-joo JoongAng Ilbo for Inside JoongAngDaily, Sun Wook says:
I will tell the public more when a complete investigation into the matter is finished. I do believe that there is something that is very wrong with the overall system, and by October, I will weed out these problems one by one. Through Six Sigma, we will lower the inferior goods rate from one in 1 million to one in 10 million.
Sun's career began in 1975 at Samsung. He became head of Samsung SDI in 2005, and was the first person in Korea to adopt Six Sigma practices.
His being a Six Sigma practitioner and believer may just be the reason for his positive view of an otherwise negative incident.
Related story:
S. Korea: Rat's head leads to cracker recall
Posted by:
meikah
| 11 November 2007 | 8:46 pm
Perhaps, next to hamburger, you often find donuts in people's daily food fare. Thus, running a donut business is serious business.
Maidstone Bakeries know this too well. They produce more than 60 million donuts per week, and to ensure quality in their products and services, they feel they must go Six Sigma.
Dyadem, a leading provider of Quality Lifecycle Management and Risk Lifecycle Management solutions, will help Maidstone Bakeries, a joint venture between IAWS Group and Tim Hortons, achieve their goals.
According to Brett Kyle, Continuous Improvement training manager at Maidstone and Six Sigma master black belt:
"Six Sigma is a standard, disciplined methodology and Dyadem's FMEA Pro-7 gave us an easy and painless way to take this approach, helping us solve problems using data rather than gut feel. Since the implementation, we've significantly reduced costs and clearly shifted to the next level of quality. FMEA-Pro showed us new ways to solve old problems, by helping us find the roots and develop new procedures to address them. The results were very often surprising."
Source:
reliableplant.com, an iSixSigma featured link
*Photo from brantfordbrant.com