Posted by:
meikah
| 20 March 2007 | 1:49 am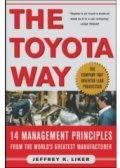 Almost a year after this book was left with me by my boss, I'm finally starting to read it. Not good, eh?
I've heard a lot about the The Toyota Way though. And I know many companies are relying on it for management strategies. The book, however, as the author attests and Toyota's president Fujio Cho, emphasizes that it's not the management strategies per se, but the system that makes every strategy work together every day and consistently.
Let me share with you some of the key principles that drive the techniques and tools of the Toyota Production System (TPS).
Long-term philosophy: have long-term thinking, long-term approach.
The right process will produce the right results: be a process-oriented company.
Add value to the organization by developing your people and partners: have tools that support people who should be continuously improving and continuously developing.
Continuously solving root problems drives organizational learning: analyze, reflect, and communicate lessons learned to standardize best-known practices.
You have to read this book, if you haven't yet.
Related references:
BusinessSummaries, Book Preview: The Toyota Way "14 Management Principles from the World's Greatest Manufacturer"
IndustryWeek, "Learning From Toyota — Again"