Posted by:
meikah
| 14 February 2008 | 9:16 pm
Pricewaterhouse-Coopers (PwC) is the world's largest firm of accountants. I'm sure you know the nature of accountants' work. It handles data, large figures even, and thus needs precision every step of the way.
What complicates things for PwC is that it has offices in different countries all over the world. How to coordinate all the company's operations, and succesfully? PwC found the answer in Six Sigma.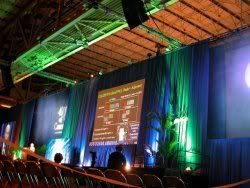 Kathy Murray, managing director of infrastructure at PwC, saw MES (meeting and event services) as a prime candidate for the Six Sigma project "because it's very process-oriented." Meeting management had been centralized for years; however, Murray says, "individual meeting planners were doing their own thing. It was crying out for consistency."
The Six Sigma project for MES started in April 2005, and as they say, the rest is history. Below are the improvements.
Process improvements:

A stronger meeting and event policy
Better cost avoidance
Better service

Technology improvements:

Better record-keeping
Increased automation
Improved tracking

Organizational improvements:


More staff
Division of tasks
Read how PwC leveraged Six Sigma and got benefitted by it.
Related story:
PricewaterhouseCoopers Deploys Six Sigma for Meetings Policy
*Photo from MorgueFile
Posted by:
meikah
| 30 July 2007 | 8:30 pm

The Meeting and Event Services department, led by director Debi Scholar, of PricewaterhouseCoopers (PwCs) handles 1,000 meetings a year. The preparations, buget, and issues involved in these events can really be daunting. To arrange for these meetings more efficiently, Scholar had the good sense to deploy Six Sigma for meeting policy.
In so doing, the department found out the following:
the need to reduce the approximately 49 percent of rogue spend
the need to revise and reinvent the meetings and event resources Web page
the need to develop a whole communications plan and change management plan

And realized the following savings and benefits:

a 67 percent increase in the number of meetings channeled through the department
a 60 percent increase of virtual meetings
much improved technology
reduced risk, increased cost savings, and millions of savings
Six Sigma is really the answer to anything that needs a system, improvement, and lots of savings.
Source:
BTNOnline, a featured link of iSixSigma