Posted by:
meikah
| 7 September 2008 | 8:29 pm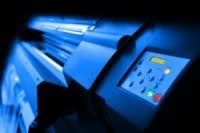 As technology modernizes, printing presses face challenging times. The issues range from diminishing workforce that is interested in commercial printing to investments in technology, and to stiffer competition because of modern technology.
Kinda funny because yesterday Wizheart and I talked about the plight of printing presses. We were talking about a friend who was running one.
Let's face it, PCs and printers, have now made printing much easier. So our friend who's running a printing press is focusing on making calendars, diaries, and yearbooks. And with all the competition, they had to market like crazy. Good though that they already have loyal customers and a stable clientele.
Going back to Wisconsin's printing industry, the printers have to find ways to make their business going. One of them, Craig Faust, president and CEO of HGI Company Graphic Arts, says:
"When you see some of the downsizing or 'right sizing,' it comes through technological advances. You see it in all manufacturing. We're producing the same volumes or higher volumes with the same head count. A lot of us are going into lean (manufacturing), 5S or Six Sigma. It's all about working smarter, not harder."
Good thinking! If you are serious about your printing business, you might as well invest in technology and in quality management methodologies to cut on cost and improve operations.
*Photo from Stock.Xchng